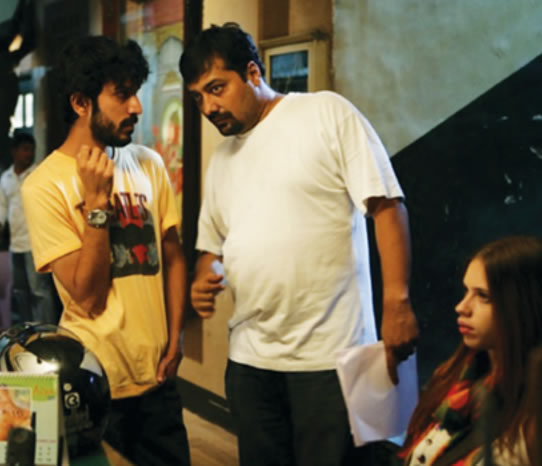 ANURAG KASHYAP
DIRECTOR
More About Anurag Kashyap's Films
According to Anurag Kashyap wiki, Anurag Kashyap is an Indian filmmaker, director, scriptwriter, producer and occasionally, an actor. Born in Gorakhpur, Uttar Pradesh (India) in September 1972, he started out to become a scientist, enrolling in a Zoology degree at Hansraj College but it was 10 revelatory days at the International Film Festival of India in 1993 that turned his life onto a different path. Watching the de Sica retrospective, Bicycle Thieves was in his own words "an epiphany."
In 1999, came Kashyap 's first break with a script he wrote, called Satya. In Satya Kashyap films a canonic presentation about turf wars in the Mumbai underworld. The film garnered critical and commercial acclaim and several awards.
His directorial debut was an edgy, psychological telefilm Last Train to Mahakali, that earned rave reviews. In 2002, Anurag went on to direct Paanch, an angst-ridden insiders' eye film on a rock band. The film ran into trouble with the Indian Censor Board and was a unreleased movie but it marked Anurag out as a director unafraid to take on troubled and troubling themes.
The year 2004 brought about a coming of age transformation for Anurag Kashyap as a film writer and director. Black Friday was an intensely raw film about the 1993 Mumbai bombings and the bloody prelude and cataclysmic aftermath. The New York Times critic Matt Zoller Seitz called it a work of "angry humanism" and evoked Salvador and Munich as comparators. Kirk Honeycutt called it "a superb and devastating piece of cinema that with justification can be compared favorably to Gillo Pontocorvo's classic The Battle of Algiers."
Noted British director Danny Boyle has cited Black Friday as an inspiration for his 2008 award-winning film Slumdog Millionaire. Boyle stated that a chase in one of the opening scenes of Slumdog Millionaire was based on a "12-minute police chase through the crowded Dharavi slum in Black Friday." Then followed the 2007 film, No Smoking, adapted from Stephen King's 1978 short story Quitters, Inc. The film was a critical success but lagged at the box-office. This was followed by Return of Hanuman, a Hindi animation film about adventures of the Hindu god Hanuman.
According to Anurag Kashyap's blog, 2009 brought Dev D, written and directed by Anurag Kashyap, the film is a modern day take on Sarat Chandra Chattopadhyay's classic Bengali novel Devdas, previously adapted for the screen by revered filmmakers. Dev D was embraced by the media, critics and the public alike, and is recognized as a path breaking film in Hindi for the way it presented itself. Anurag Kashyap took a huge risk in subverting a well-known classic that had always been treated with a reverential faithfulness to the original. Stylish, psychedelic and rebellious, Dev D changed the language of commercial Indian cinema and became a bush-fire hit through word-of-mouth recommendation.
Gulaal (2009), five years in the making, was a searing take on student politics and separatist movements. It was rated as one of the best Indian movies to document the current political history of India. As a result, critics called Kashyap "one of the most exciting voices in Hindi cinema." 
He has been part of the Venice Film Festival Jury and was awarded the Special Jury Award (for his contribution to Indian Cinema ) at NDTV Indian of the Year awards in 2009.
That Girl in Yellow Boots (2010) co-written, directed and produced by Kashyap, is a testament to his fearlessness as a filmmaker. He continues to be restless, questing, plunging into gutsy experiments in style, structure, technique, and narrative. Anurag Kashyap films often varnishes scenes from his movies from his own life experiences. This type of transparent filming requires a type of relentlessness to dig up disturbing facts about one's own life.
According to Anurag Kashyap's blog, the future projects that are much-anticipated include the film Bombay Velvet and Doga. Bombay Velvet is a thriller based on real incidents in 1960s Mumbai, produced by Danny Boyle, and Doga is based on a comic-book super hero.
Guneet Monga
ASSOCIATE PRODUCER
Guneet Monga has produced several significant feature and short films, including the 2010 Oscar-nominated Short, Kavi.  An active leader in the independent film industry, Guneet co-founded Sikhya Entertainment and has produced many successful projects under the banner.
Shibani Keshkamat
ASSOCIATE PRODUCER
Shibani Keshkamat-Tait is a media executive with over 12 years of experience in India, Southeast Asia and the United Kingdom.  She has held various management and leadership positions in film, television, print and internet ventures.  She has successfully spearheaded content and strategy for visionary ventures, brand launches, and brand reinventions.  She brings creative and strategic insights and strengths to the Sikhya Entertainment team.
Shweta Venkat Mathew
EDITOR
Shweta has graduated from the Film and Television Insitute of India, in Pune, and is a young editor who was awarded the Swarovski Trophy for her work in Malegaon ka Superman.  She worked on films like Karma (2009/II), Superman of Malegaon (2008), The Mole (2008/I).  Shweta is also a reputed editor in the Indian advertising world.
Naren Chandvarkar & Benedict Taylor
MUSIC
Naren and Benedict are renown music composers known for their experimental work.
Wasiq Khan
PRODUCTION DESIGN
Wasiq Khan studied Fine Arts from Jamia Millia Islamia, New Delhi and is one of the best known Art Directors / Production Designers in the Indian film industry.  He has been the production designer for critically acclaimed films like Black Friday (2004), Aamir (2008) and has been the Art Director for various films like Matrubhoomi (2003), Samay (2004), Taxi number 9211 (2006) and Dabaang (2010) among others.
Kunal Sharma
SOUND DESIGN
Kunal Sharma is a national award winner for his work in the film 1971 and received an award for technical excellence from the International Indian Film Academy for the film Devdas.  His work includes films like Paanch (2003), Black Friday (2004), No Smoking (2007), Blood Brothers (2007) and Udaan (2010) among others.
Rajeev Ravi
CINEMATOGRAPHY
Rajeev Ravi is one of the 2010 Filmfare award winners for best cinematography in 2010. Ravi for the film Dev D and was nominated for an Apsara Producers Guild Awards in 2010, for the same film.
He is 1997 graduate from the Film and Television Institute, which is one of the best film schools in India, Pune. In addition, Ravi has worked with director Anurag Kashyap on many Bollywood as well as the latest Malayalam movies.
He first assisted in the Malayalam film, Pranayavarnangal.  His first independent work was on voted as one of the most critically acclaimed Hindi movies, Chandni Bar.  He believes that a combination of talent, hard work and a willingness to sacrifice are the most crucial factors for becoming one of the best cinematographers. His work includes Gulaal (Hindi, 2009), Mumbai Cutting (Hindi, 2009), No Smoking (Hindi, 2007) and Classmates (Malayalam, 2006) amongst others.